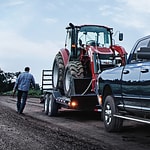 The Ram 2500 is an incredibly popular heavy-duty pickup truck that's known for durability. Below are some of the reasons why this powerful truck is so highly regarded.
Steel Frame
With a steel frame that boasts 50,000 PSI, the Ram 2500 is both efficient and strong. This is coupled with an overall design that makes it a workhorse. The Ram 2500 has an incredible foundation that's an undeniable industry leader.
Brake System
The Ram 2500 has braking technology that's exclusive to the brand. The design of the braking system helps to reduce the amount of wear incurred on the disc brakes. This holds true when hauling loads that are especially heavy.
Sometimes you have to experience a vehicle to truly understand its value. We invite you to test drive the Ram 2500 here at Westgate Chrysler Jeep Dodge Ram in Raleigh, NC. Our knowledgable team is available should you have any questions. Call us today!