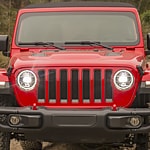 Out of all today's compact SUVs, the 2020 Jeep Wrangler is a fan favorite. The reason being for such high favoritism is that this vehicle brings a lot of tangibles to the table. This includes an efficient powertrain, off-road capability, and technological advancements. Let's dive in deeper.
From an exterior standpoint, the 2020 Jeep Wrangler is a breath of fresh air. This compact SUV can be purchased in two-door and four-door models. Large flat surfaces and straight body lines are displayed on both sides of the body. On top of that, consumers will love the available roofline options. This includes a zipperless top, hardtop, and soft top. The vehicle's windshield can be removed easily by simply folding it down. Consumers can also opt for 17-inch wheels as well as 18-inch wheels.
We want all interested buyers to come and test drive the 2020 Jeep Wrangler before it's too late.